Are there any better Dashlane password manager alternatives and tips how to save more
There are plenty password managers on the market today with their own pros&cons. After analyzing dozens of them I could differentiate that some real competitive password managers could go toe to toe with Dashlane. Some really good I have noticed are NordPass (from the company that provides great VPN – NordVPN service), Sticky Password Premium, ZOHO Vault, LastPass, 1Password, BitWarden, Keeper Password Manager and some others.
I have thoroughly tested some of them and can say for sure that Dashlane is definetly not the cheapest solution. For example, 1-month subscription of NordPass Premium plan with 33% off standard discount costs $1.99 or $23.99 / year. Sticky Password Premium discounted price is just $9.99 / year and $29.99 / lifetime. Dashlane Premium plan discounted price is $4.99 / month or $59.99 / year (keep in min that with exclusive 50% off extra Dashlane promo code the price is just $29.99). So just to conclude I must say that Dashlane is not the cheapest password manager even after using discount codes but I must confess that the premium plan really worth its money just because of its unique features that competitors lack.
If we move deeper and try to analyze the search trends for the above-mentioned password protectors, we would see that Dashlane is far beyond it's nearest competitors like NordPass and Sticky Password.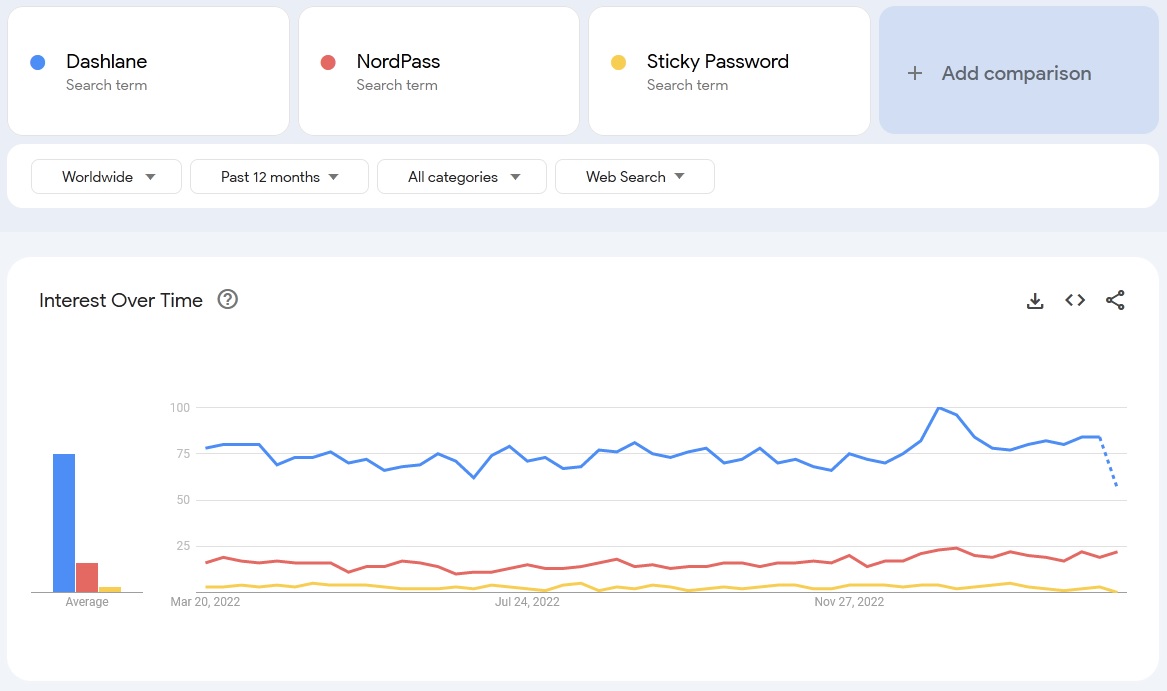 So, I would summarize this Dashlane comparison with competitors in the following way. The tool is very popular, has many unique features and therefore the price is pretty costly but worth it.
Dashlane Pros&Cons
Pros
Encrypted database with 256-bit AES encryption that never leaves your device
Automatic password generation and auto-login
Generates strong passwords to help you create a unique, strong password for every site
Secure digital wallet that logs you into websites automatically
Stores all credit cards and payment accounts in one place so you can pay online without typing it again
Multiplatform support for Windows, MacOS, Android and iOS devices
Cons
Does Dashlane offers a student discount?
Yes, sudents can get Dashlane Premium plan free for 1 year, here is a link on the official website https://www.dashlane.com/students
I have also found a page at StudentBeans regarding Dashlane student discounts https://www.studentbeans.com/student-discount/us/dashlane but there is no way for students to claim their discount there.
I didn't find any mentions regarding the military discounts by the way.
Can I get Dashlane 50% Off?
Yes, you can use our exclusive Dashlane promo code you can save 50% of the regular price. Note that the maximum discount we offer for personal and business plans is 70% off.
How much is Dashlane Family plan promo?
The usual price for Dashlane Family plan is $8.99/month or $107.88/year but using 60% off discount code you can reduce the initial price to $44.95.
What are Dashlane best deals?
Currently you can use 70% off Dashlane deals for premium plans (Advanced, Premium, Friends & Family) using our exclusive discount codes.
Is there Dashlane renewal discount I can use?
Of course, you can! You can save up to 50% of the regular price with the coupon code when you renew or upgrade your existing license.
Why Dashlane password manager is so great?
As far as I know, it's the only password manager that offers an online browser extension for Google Chrome users, which makes it possible to access your passwords from any computer with a browser (Windows or Mac) without installing anything on the machine. This is really handy if you need to check some information from home or office but don't want to install anything on their computers.
How to enter Dashlane promo code or how to redeem Dashlane coupon code?

First of all, choose the subscription plan and go to the checkout page. You will have to enter your valid email address, otherwise the discount coupon won't be applied. Right after the "ORDER SYMMARY" you will see "enter a promo code" link. Click on it and enter Dashlane coupon code into the box, then hit apply. You will see a discounted price as on the screenshot below.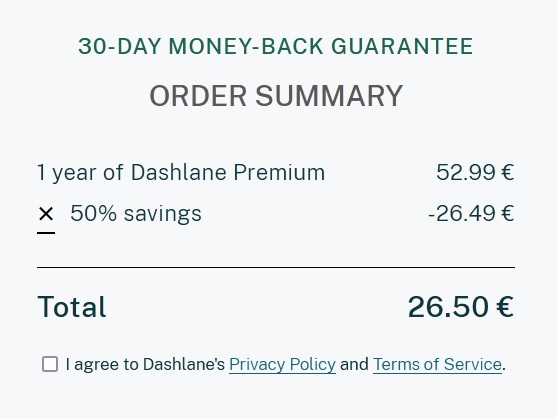 I should note that coupon codes can be applied even to the discounted Dashlane subscription plans.
Is Dashlane 5-year plan deal still available?
No there is no way you can buy Dashlane 5-year plan. Both personal and business plans are for 1-mnoth or 1-year subscription currently. But you may try to contact Dashlane customer service and ask them because I managed to find Dashlane 3-year and 5-year deals at some unofficial online stores.
Is there Dashlane giveaway?
Yes, and this is a great news! You can download Dashlane Premium absolutely free using official Dashlane promo page. The license is valid for 6 months and has all features of the premium version.
What is the best Dashlane coupon code currently?
At the time of writing the best Dashlane promo code you can use allows you to save 70% of the regular price for the premium version. Check all vouchers and coupon codes above.
How to get Dashlane for free?
In addition to the free trial versions to all subscription plans you can download free full version of Dashlane with some limitations. So, with the basic password management version you have the following limitations: 1 device, unlimited passwords, secure sharing. Free version lacks such helpful features as dark web monitoring, VPN, unlimited devices, and friends & family dashboard. Here is an article for more info regarding Dashlane free plan plus download link https://support.dashlane.com/hc/en-us/articles/360001144749-Dashlane-Free-plan
Dashlane Sales & Deals
70% Off Dashlane Premium Coupon Code
50% Off Dashlane Discount (Personal & Business plans)
60% Off Dashlane Family Plan Promo
Helpful Info
Dashlane Users Reviews and Ratings
Dashlane Discounts and Deals page