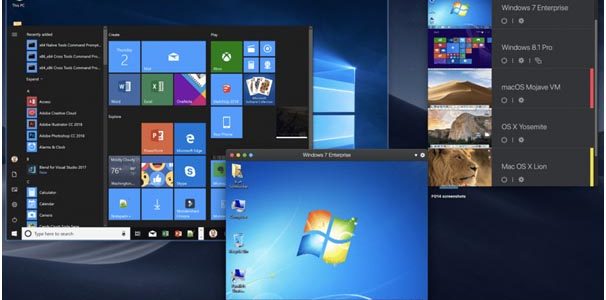 Parallels Desktop 14 for Mac: A Faster and MacOS Mojave-Ready Version With Over Fifty New Features
Switching to Mac might be a wise move, but if you still want to run Windows on your Macintosh, there are only a handful of options to make that happen. Arguably, the easiest way to run Windows on your Mac system is a hardware virtualization application – Parallels Desktop. In version 13 of the virtualization software application, the developers first introduced options to configure all Windows widgets and applications with the Macbook touch bar. The new version, Parallels Desktop 14 for Mac, comes with a preconfigured touch bar and lots of new features. What are the new features in the Parallels Desktop virtualisation software application? What are the users saying? What are the biggest turn-offs? Let's take a look.
What's New In Parallels Desktop 14 For Mac?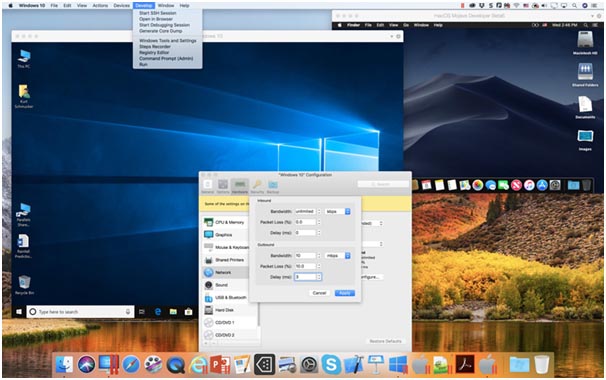 Parallels Desktop 14 comes with more than fifty new features. It now runs with considerably less memory, less disk space and less CPU usage. Compared to its predecessor, the latest version kicks Windows and all its applications off 35% faster. Automatic disk monitoring is a unique feature which helps users to save a lot of disk space. You can also keep a beady eye on RAM and CPU usage. In addition to that, you can also auto-adjust video memory to optimize performance of your virtual OS. On the top of it, the latest version is already compatible with macOS Mojave, the fifteenth and latest major release of macOS. If you already have the previous version, you can just upgrade to the latest version for just $49.99, with no strings attached!
The latest version of Parallels makes it a lot easier than ever before to get more space on your Mac system. With the disk space optimization feature, you can now get even 20 GB space back. The notifications for freeing up disk space help the users in getting back disk space and you can even use the Clean Drive feature, which comes with the Parallels 14 toolbox, to save additional space. With new OpenGL support and improved graphics, you can run your favorite games and apps on your VM. It's now easier to stay in the loop about video memory distribution and you can now launch CAD programs without bogging down your Apple PC. What's more, Parallels 14 now allows users to run CTvox, DIALux 8, OriginLab, SketchUp Pro, and many more computer programs without a hitch.
If you want to get additional support, you can get it with the preconfigured touch bar which is specially designed for Windows applications such as Revit, Visual Studio, and Visio. The Touch Bar wizard, which the developers introduced in the previous version, is still there, which means all the customization options are still there.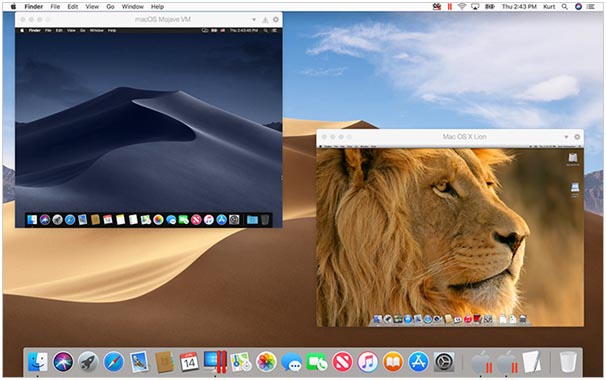 Talking about the different editions of Parallels 14, if you upgrade to the Parallels Desktop 14 Pro Edition from the Home edition, you can allocate as much as 128 GB of vRAM/32 vCPUs for each of the VMs you use. The Pro edition allows you to create 32 vCPUs for each virtual machine, compared to just 4vCPUs in Home or Standard edition. Both the Pro Edition and the Business Edition come with a lot of additional features which are missing in the Home edition. These features include integration with Docker/Ohai/Chef, network conditioner for simulating tests and speeds, Visual Studio in the form of a plug-in and full support for Parallels business cloud solutions. You can also dump VM, debug, and start a Secure Shell session right from the menu. Centralized management and administration along with unified volume license key for mass deployment are two advanced features which are only available in the Business edition. There's also an academic edition which comes with larger savings. Premium phone and chat support is available for free only for Pro and Business edition users.
Pros And Cons Of Parallels Desktop 14
Pros
A much faster version compared to Parallels Desktop 13
Pre-configured touch bar for Windows applications
Requires much less memory and disk space
Zero driver issues
Cons
DirectX 13 support is missing for games
8 GB RAM limit for the Home Version has not changed
Support for the latest version is still not adequate
What Has Been The Users Impression Overall?
To get a feel of the first impression of Mac users about this virtualization software application, I looked into some user forums and communities. Some users are upset over the fact that the 8 GB RAM cap for the Home Version hasn't changed. The 8 GB limit actually makes Windows installation a Royal Pain and I think it's one area that the developers could focus on. On the other hand, Parallels Desktop 14 allows multiple displays to be accessed separately, which is a big plus according to some users. While users have generally liked the macOS Mojave-ready Windows virtualization software program, some users still do not like the quality of support. Some users are also unhappy over the fact that the cross-platform backups is not quite easy and that the developers haven't sorted the retina compatibility issue. However, the overall impression of users is on the positive side, particularly because the improved speed and the noticeable difference in performance.
Parallels Desktop 14 for MAC vs Parallels Desktop 13 for MAC: Key Differences
Parallels Desktop 14 for Mac has brought all the much-awaited performance enhancements, and it now comes with a host of tools that have all the potentials to become staples for Mac users who need to run Windows on their system. The macOS Mojave support is one welcome change which was long due, and it comes with the exciting new feature, Dark Mode.
The latest version of the virtualization software application focuses on performance upgrades more than anything else, and 10% faster boot time and 80% quicker app launching are some of the biggest changes that the users can experience. Aside from that, there are quite a few new features that can enhance the user experience by a few notches. For example, the virtual system snapshots are now more or less 15% smaller compared to the previous version. Clearly, the objective of the cross-platform solution providers is to melt down the border between Mac and Windows. The new version now facilitates users to use Microsoft Ink to edit MS Office documents on their Mac, and this comes along with a pressure-sensitive support for popular MS Office applications such MS PowerPoint, MS Edge, as well as CorelDraw, Leonardo, openCanvas and Adobe Photoshop for Windows.
Also, the pre-configured touch bar containing AutoCAD, Microsoft Visio, MS OneNote, Revit, SketchUp, QuickBooks as well as Visual Studio has been successfully added to the latest version. All the current touch bar sets, including MS-Office 2016 applications, Windows Cortana, Task Bar pinned widgets, web browsers and File Explorer have also been added to the version 14 touch bar sets. In addition to that, the new touch bar wizard makes it a cakewalk for users to modify the touch bar sets for a plethora of Windows applications, and the function key shortcuts are now arranged in a manner that makes running different Windows tools and applications a breeze.
Additionally, by upgrading to the new version, you can actually enjoy a whole gamut of tools that have been nicely integrated into one interface, and you don't have to pay for the apps individually. If you switch to the Presentation mode, all those annoying pop-ups would be disabled. Clean Drive is another important tool which can help you de-clutter your computer's hard drive for optimized performance. Here's a chart to help you understand what's new in the latest version.
| | | |
| --- | --- | --- |
| Feature | Parallels Desktop 13 For Mac | Parallels Desktop 14 For Mac |
| Support for macOS Mojave | Supports Mojave only as a guest OS | Complete support for macOS Mojave, including native support for the Dark Mode |
| Compatibility with SketchUp 2018 and OriginalLab | No | Yes |
| Speed of Windows start menu and applications | Standard | 35% faster than Version 13 |
| Webcam Support | 2K | 4K |
| Support for Microsoft Ink | Basic support | Enhanced support |
| Touch Bar support | Basic Support | Expanded support |
| Audio encoding and AI processing | Standard | Two-times faster than Version 13 |
| Number of Applications supported | 200,000 | All existing supported applications plus a few more |
Parallels Desktop 14 Vs VMware Fusion: Key Differences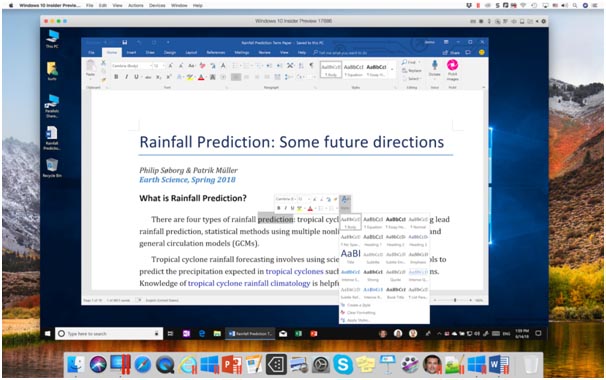 On MacOS, you can either use VMWare Fusion or Parallels Desktop 14 to open Windows and its applications without shutting down your Macbook or without rebooting into the other OS. Which of these two virtualization software applications would fit the bill for you? While it ultimately boils down to your personal choices and requirements, here's a succinct comparison of the two applications to help you understand where you should put your money. Let's start from the basics. Upon booting, Parallels Desktop 14 for Mac almost immediately syncs Windows with the Mac interface. This is also possible with VMWare, but you need to figure it out in the first place.
Optimized file sizes for your Windows virtual machines is perhaps a whole new exciting feature which puts Parallels 14 well ahead of its competitor. For example, if your VMWare Fusion image size is 44 GB and if you use the same file imported from VMWare, Parallels would only use 27 GB. Technically, if you are using three virtual systems simultaneously, Parallels would save you 54 GB, which is quite higher if we compare it with the optimized disk sizes that VMWare offers.
Parallels Version 14 in particular is a lot smoother and lighter than its counterpart, VMWare Fusion 10.1.0. It starts faster, uses far less disk space and memory, has preconfigured touch bar support, and also comes with enhanced OpenGL support. If you are into IT and you need to deploy virtualization software applications a lot day in and day out, you would definitely like the design licensing portal, and with the latest version, you can even invite new users. Overall, Parallels 14 is a lot faster and lighter compared to its competitor.
While Parallels 14 for Mac is a big step forward, there are certain things that existing or new users might be unhappy about. For example, the licensing cost and policies of the two cross-platform solution providers are fundamentally different, and Parallels for Mac has a lot to work on when it comes to licensing policy. If you are using two different machines (e.g. a laptop and a workstation), VMWare would allow you to use one license on these two different machines, but Parallels would restrict you to a single machine install, hence you need to pay for two licenses even if you are using just one machine at a time.
If you prefer stability over performance, VMWare is your automatic choice. Parallels support is still pathetic, and the application is buggier than VMWare. So if you are not specifically looking for boilerplate replies while trying to connect to support, you should not ditch VMWare for Parallels. Despite the significantly lower GPU performance of VMWare, it's still a better option than Parallels when it comes to stability. But that being said, Parallels 14 is an agile performer and it comes with a host of amazing surprises that you might have waited for. Here's a chart for you to get a quick glimpse of the differences and similarities between these two virtualization software applications.
| | | |
| --- | --- | --- |
| Feature | Parallels Desktop 14 For Mac | VMWare Fusion |
| Complete integration of Microsoft Cortana digital assistant | Yes | Yes |
| Preconfigured Touch Bar support | Yes | No |
| Virtual Disk Optimization in real time | Yes | No |
| Licensing Policy | One License for one VM | Unlimited number of VMs can be created using a single license |
| Host OS | Mac OS X 10.6.8 or later | Mac OS X 10.6.7 or later |
Should You Buy It?
Parallels have really come a long way since 2006, when the virtualization software application was first released. It now offers much more convenience and speed. It doesn't just allow users to access Windows and Mac simultaneously, but it also ensures seamless transition from Windows to Mac and vice versa. While for users who are looking to upgrade, there's not much to be excited about, for new users, it's probably the best deal around. The company runs good promotions and deals throughout the year also you can check some Parallels coupons and discounts on our website.