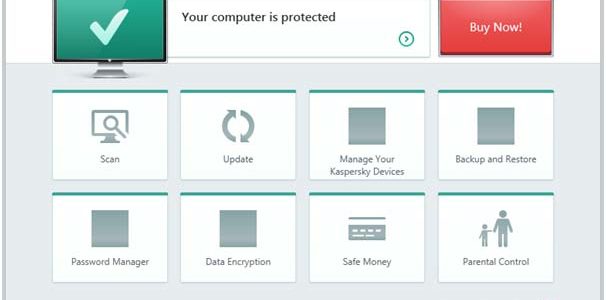 Kaspersky Total Security 2018 Review: Much More Than an Antivirus Software Program
As you can assume, the new features features have real benefits and some independent software testing labs have already certified the software for having some of the best features around in comparison with other best internet security suites 2018. Among the usual features that you would expect from a Kaspersky antivirus product, there's a software updater that checks constantly for updates for common applications such as Adobe Reader or Firefox browser and the updates would automatically be downloaded and installed without you getting to do anything.
Also, there's a "Secure Connection" safety feature which is effectively a privacy-focused VPN or Virtual Private Network. This feature kicks in whenever you use Wi-Fi hotspots, banking sites and online shopping portal. The Installation Assistance Tool can't also be missed out on, as this is a unique feature that keeps a tab on adware and malicious programs that get silently installed on your PC under the guise of 'free software'. You also get a Software Cleaner that helps you in removing unwanted programs.
A detailed overview of the key features of Kaspersky Total Security 2018
As you can assume, Kaspersky has loaded its latest antivirus software program with all the advanced features that someone would expect. Performance-wise, this is going to be one of the best antivirus programs in 2018 and we have no doubt about that. Here, we have compiled the most outstanding features of the software program. The following lost contains features and aspects that have been proven in independent software testing.
Threat Detection
The very objective of having a security suite is this feature. In fact, most test computers are made replete with malware, spyware and several such horrid aspects to simply test the rates of detection of multiple antivirus software programs. It doesn't matter whether some are absolutely new or old. The strength of the antivirus software depends on how many are caught within a period of 30 days and that too for four times a year. Thankfully, Kaspersky Total security 2018 has proved a success in most malware detection across testing range.
Support
Strange as it may sound, most people tend to overlook the support factor. For those who aren't computer savvy, support is vital since any stubborn virus need to be removed. Depending on the different levels of users, Kaspersky has several ways of getting support. Some are online forums, live chats, online support tickets, how-to-videos and not to miss out, consumer phone support. The software has plenty of support centers as per the number of countries. For example, US centre is open for 7 days. So when multiple calls were made, the 'test issues' were fixed by them in less than 20 minutes.
Ease of Use
If it can't be figured out how software is used, then it's pointless availing the same. Thanks to Kaspersky, there isn't much of a hassle after installation of the same. There might arise times when someone needs to stop venturing into a 'bad' website or for that matter a malware or virus or any form of threat has been detected, it is here that the software comes in handy. One can also set up parental controls or custom scanning for better user experience.
System Usage
It's wrong how we tend to assign a bad name to antivirus software since these take up system resources and results in slowing down the computer or nay other device. Nowadays this trend has somehow declined owing to the changes in working of antivirus software. Unlike most others, Kaspersky Total Security 2018 did a great job of retaining its speed at the time of testing.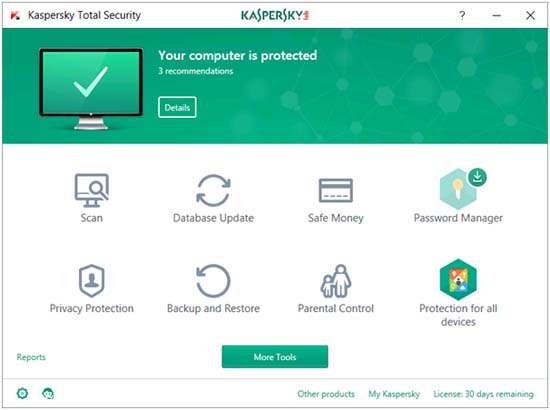 Kaspersky Total Security 2017 Vs Kaspersky Total Security 2018: How much different is the new version?
| | | |
| --- | --- | --- |
| Features | Kaspersky Total Security 2017 | Kaspersky Total Security 2018 |
| Additional information regarding pages containing adware | No | Yes |
| Protection during OS restart | No | Yes |
| Anti-banner system | Yes | No |
| Diagnostics of Application Installation Issues | No | Yes |
| Application Self-Defence during upgrade to a new version | Basic | Improved |
| Notification | Basis | Improved |
 Pros and Cons of the Kaspersky Total Security 2018
Pros
Comprehensive and superior protection for Mac, Windows and Android devices
Provides superior protection both online and offline
Superb anti-fishing
Highly rated by independently run antivirus testing labs
A full spectrum of parental control features
Best-in-class firewall protection
Cloud and local backup available
Cons
Mac suite has limited features compared to the Windows suite
iOS protection is limited compared to the protection for Windows and Android
A bit slower than its predecessor in displaying outdated database
Pricier option among many similar software products
Installation requirements
Minimum free disk space: 920 MB
A CD or DVD drive (if you are installing it from a CD)
An internet connection (this is basically required for activation of the product key and installation of the software program. Also, with an internet connection, you can participate in the Kaspersky Secure Network and get regular database updates).
A computer mouse
Microsoft IE 8.0 (or a more advanced version)
Windows Installer 3.0 (or a more advanced version)
Microsoft .Net Framework 4 (or a more advanced version)
The verdict
Broadly speaking, Kaspersky Total Security 2018 multi device has been up-voted by many independent software reviewers. The security suite is complete in all aspects, comes with a variety of additional features and provides better protection against advanced threats. Besides, it also comes with a 30 day money back guarantee in case anyone is unsatisfied after using. Kaspersky Total Security 2018 is easy to use, with some welcome additions, and as usual provides rock solid protection.
Should you buy it? Well, Kaspersky, although a bit more expensive than many of its closest competitors, comes with an amazing set of security features that are all highly useful. It's a peak performer on Windows and definitely a better security software suite compared to Bitdefender in many aspects. However, we must add here that the Bitdefender software suite has its own set of pros and cons and you should actually read a couple of user reviews before buying the software. You may download and use the Beta version for testing how it works for you.