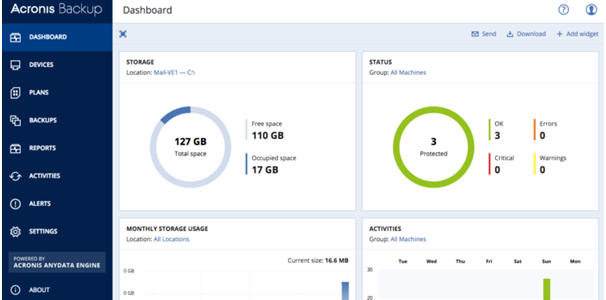 The world of technology is advancing at a rapid rate and you have to keep up with it. With new and advanced threats to your personal data, on your computer or mobile devices, on the rise it's high time you sought the proper protection for all your data. Acronis backup is the fastest and the easiest backup solutions for all your data no matter whether they are stored on your PC or a remote system. Its services also extend to data stored on public or private clouds and even mobile devices. With a host of features and a very easy interface the Acronis Backup Server is a gem of software worth your time. Read on to learn more about its features.
Available in two impressive editions the Acronis Backup boasts of the fastest recovery wizard and is very easy to install. A three click installation process sets up the software and its user friendly interface is a dream to navigate. Here is a closer look at the features.
Dashboard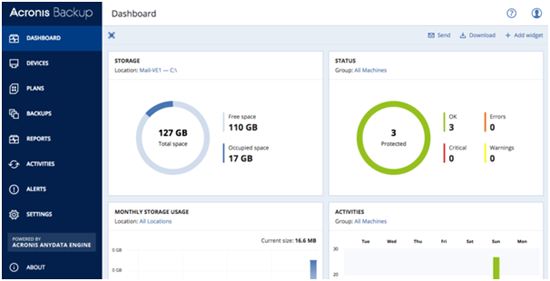 Now you can protect your business and data by backing up your entire system, particular files or data, and even your operating system. You can store your backup on various storage devices such as your local disks, external hard disk, tape devices or even cloud storage. Recovering your data is also selective as you can recover complete data or selected files and folders.
Acronis manages to eliminate the risks of backing up and recovering your personal files with access to hypervisor hosts, cloud data and virtual machines. The disk imaging used to backup your data is top notch as is the other high performance tools on board. The touch friendly web based console allows you to protect your entire infrastructure. The advanced version boasts new features like Oracle database backup which lets you backup your complete Oracle database and uses bare metal recovery.
Management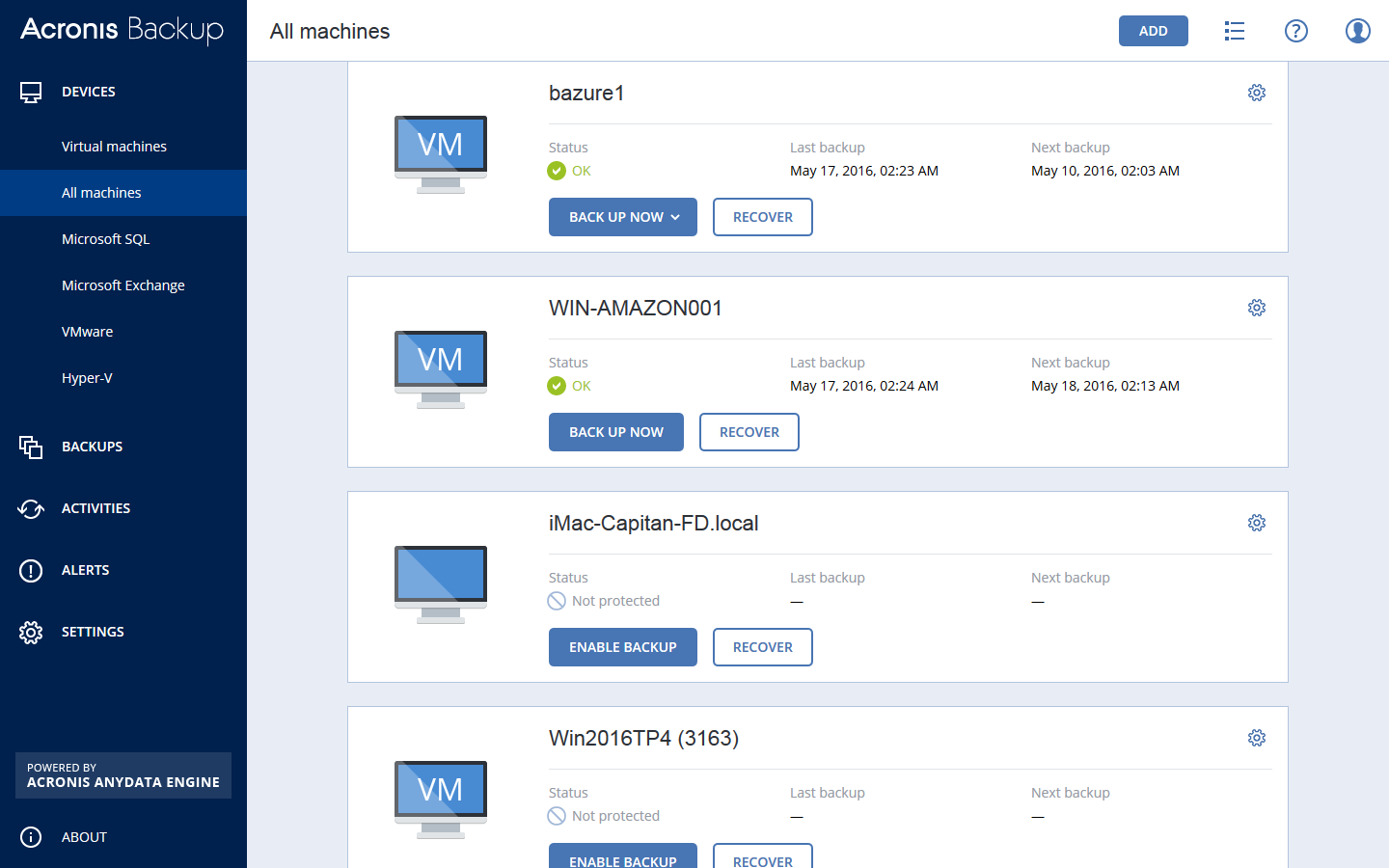 The storage options available are many ranging from local hard drives to secured cloud storage. It even lets you store backups on local tape devices with support for tape rotation and media management. There are more than fourteen Acronis Cloud data centers which are totally secure. Storage options are same in both the advanced and standard versions however cloud storage is only made available with the advanced version and to subscribed members only. It however supports tape storage unlike other backup software in the market.
Speedy recovery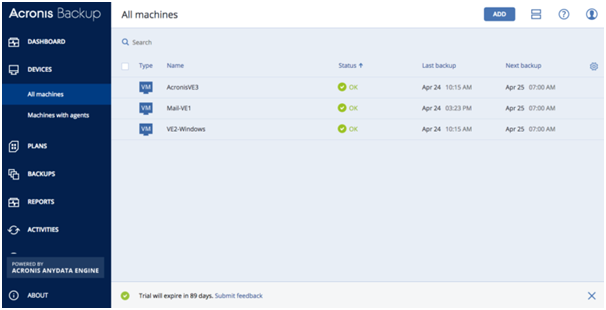 If you thought backing up your data with the Acronis Backup Server was easy then wait till you try to recover backed up data. With an easy three step recovery that takes all of fifteen minutes there is no need for data movement as it starts to backup directly from storage like VMware or Hypervisor VM. Using this new technology you can restore your entire system to the same or other hardware without having to reconfigure your hypervisors. The Acronis Backup aims to cut down recovery time to 15 seconds or less which is quite impressive to begin with. Recovery from public or private cloud storage is also available and you can now easily recover data from your mobile devices as well. Remote system recovery is no longer a hassle with its smart and innovative updates.
Intuitive and Innovative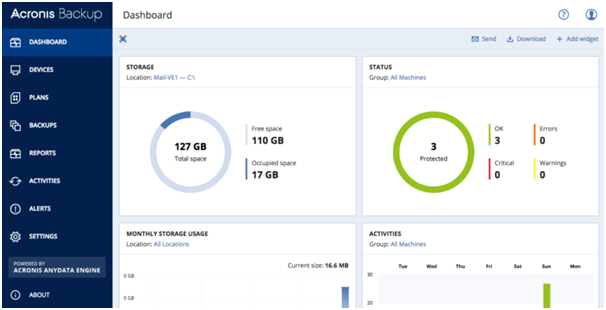 The wizard of this software is fairly intuitive with customizable dashboards and also serves admin roles. With the admin role you can enable IT protection for your office, branch office or department system. It also has the ability to manage and establish roles for multiple administrators.
The customizable dashboard resolves issues in a jiffy and gives you proper insight into your infrastructure. Customized reports help you to better understand the infrastructure and its issues, in turn helping you to increase the resiliency of your system. The user interface is a breeze to navigate and the features are well laid out.
Innovative means of data protection with the help of Acronis Active Protection is another exclusive feature of the Acronis Backup for Windows Server Advanced. This intuitive feature detects and blocks any suspicious changes to your files or folders. It protects you from ransom ware threats by reversing any damage done to your files or folders. Prevent any unauthorized changes to your backed up data before recovery with the help of another exclusive feature the Acronis Notary. Data protection is topmost priority for Acronis nowadays thanks to the abrupt rise in cyber crime.
Conclusion
As you have already understood by now the Acronis Backup for Windows Server is currently the best in the market. All the impressive features speak for themselves and I hardly need to convince you to go for this software. If you are not convinced already that nothing much can convince you. If you are indeed considering giving this software a go then you have made a good choice. However, before you rush into anything consider carefully your needs and priorities and do a bit more research before you actually buy it. Also don't forget to check Acronis promo codes and special deals to save extra money.