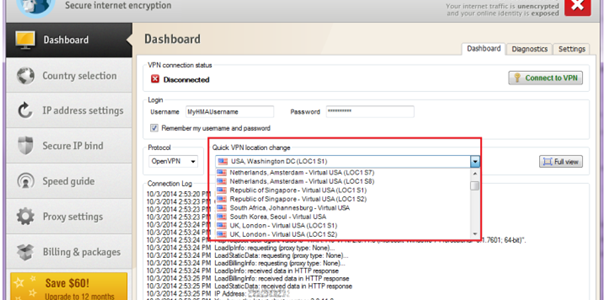 HideMyAss VPN Service Review with Pros/Cons and How to Use Guide
One of the best ways to keep your online activities intact and remain anonymous is by using a VPN (Virtual Private Network).  Besides being anonymous, a VPN ensures that you can't be tracked by Hackers or the NSA; also ensures that you access any content that isn't available in your geographical location.
However, one VPN that can be a good option to use is HideMyAss VPN service. This server also ensures anonymity and secure online activities. If we are to ignore the additional services that this service offers (we will take a look at this later) and evaluate the server very strictly, the most prominent service that HideMyAss offers is its server strength. It is important to know that this service has one of the strongest server strength in the VPN industry today no matter the geographical location.
HideMyAss Servers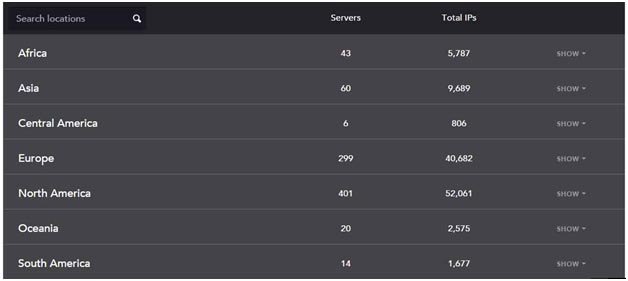 When it comes to its number of servers, HideMyAssVPN service offers a separate tap on its homepage touting 'server' – which is not available in some VPN servers today. The VPN service has more than 900+ servers spread across different locations and in over 190+ countries including Africa, thus, given it the opportunity to have about 121060+ IP addresses available to its customers.
HideMyAss Safety and Performance
In terms of safety and speed, HideMyAss offers PPTP, L2TP, and Open VPN protocols, although, the level of encryption differs. On the other hand, HideMyAssVPN is very fast and also reliable to use in an IP address that you want to use at any point in time.
When it comes to performance, HideMyAss is compatible all devices out there including Windows.
HideMyAss Speed
Speed is one of the things that you should always look out for in a VPN provider. However, when it comes to speed, HideMyAss is very fast and the speed ensures that you have speedy internet access to all contents online.
Pricing Plans for HideMyAss

HideMyAss comes in different pricing plans for its customers. However, the pricing plans on HideMyAss VPN service comes in 3 different forms. The first one is for a month, the second is for 12 months, and the third is for 6 months.
Furthermore, the one month plan is called 'Kick-Ass' plan which is $9.99 per month. It is important to note that for this plan, you will save 13%. You will also get a full package for one month.
The 12-month plan is called the 'Smart-Ass' plan which is $4.99 per month. In this plan, you are likely to save up to 57%. In this plan also, you will get a full package each month for a period of one year.
The 6-month plan is called the 'Half-Ass' plan which is $6.67 per month. This plan helps every customer to save up to 42%. In the Half-ass plan, you will enjoy full benefits for a period of six months.
It also necessary to know that HideMyAss brings out their discount price few times in a year; this implies that these discount prices may likely to change sometimes, therefore, it is necessary that you keep checking their website every time an international event comes up. I recommend to check HideMyAss coupon page for the latest deals and special offers before you make a decision.
The pros of HideMyAss

Unlike some other VPN servers, the price plans starts from $4.99. This also means that it is cheap and readily affordable to purchase at any point in time. However, it is important to note that customers can be able to purchase the different pricing plans that are available on the VPN provider.  As stated earlier on, HideMyAss offers 1-month, 6-month, and 12-month plan.
Over 900+ VPN Servers In 190+ Countries
HideMyAss offers more than 900 VPN servers to 190+ countries with powerful 121060+ IP addresses to its VPN users. However, a very large portion of these servers is situated in the United States of America (more than 300), followed by European countries and then the U.K. Other regions like North America/Canada, Asia, Central America, Africa, and South America follow with one server each in these places.
30-day Money Back Guarantee
Another good advantage of HideMyAss VPN service is that it offers a 30-day money back guarantee if you are not satisfied with the service. To get this opportunity, you can contact the customer care and your complaint will be noticed, thus, in due time, you will receive a notice via your email address that your money has been refunded.
Offers Live Chat and Customer Support System
Another good advantage of HideMyAss is that it offers lots of customer support system for its customers across the world. It is important to know that you can contact support through their Blog, LiveChat, Community, HideMyAss Support Page, and Email.
The Cons of HideMyAss VPN Service
Lazy Tech-Support and Live Chat Service
Even though this VPN service offers different options (like Email and Live Chat), it has a lazy customer support. This is due to the fact that one submitting a request, it takes time to get an immediate reply or response from them.
Also, sending two ticket response to its customer care, you will receive just one reply and it takes time to get this reply. Although, the response from the customer care is well-detailed enough.
Unlike other VPN providers, HideMyAss does not offer a free trial. For you to get access to its services, you have to purchase immediately.
Support for Android and iOS
When it comes to compatibility with Android and iOS, HideMyAss is user-friendly. It is also necessary to note that with its classic-yellow or green theme its applications in this VPN provider is easy to use and navigate on all devices,
HideMyAss can be used on Android phones and iOS devices. However, the Android app is the latest addition to the HideMyAss software group and it offers classic features. Here is a detailed guide "How to use the HMA! Android App"
How to Use HideMyAss VPN Guide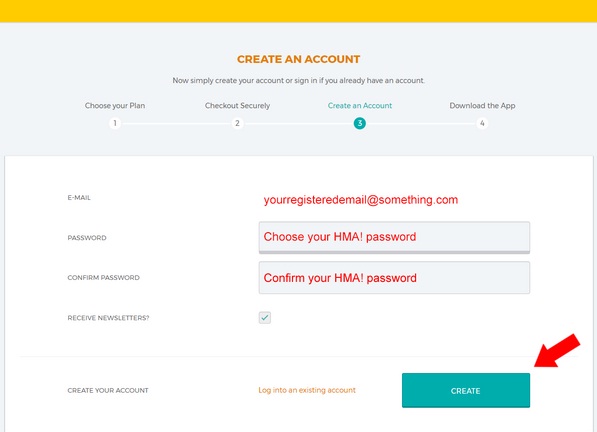 Using this service is very simple to use as a newbie. However, for you to begin, it is necessary that you sign-up to the service. You can sign up to HideMyAss by creating an account. Upon creating an account, you will be directed to the 'Account creation' page no matter the subscription plan that you click on.
As noted earlier, HideMyAss does not offer a free trial – creating an account is necessary! Furthermore, once you have created an account with your username and password, the next thing to do is to choose a payment method and a payment plan. You can pay through Bitcoin, WebMoney, etc.
Conclusion
HideMyAss has the biggest number of VPN servers in the VPN industry and it is also known when it comes to delivering quality service to its customers. Its discount may change twice a year (summer holidays and New Year).  It has a customer support system that offers live chat and it is available 12 hours out of every 24 hours.