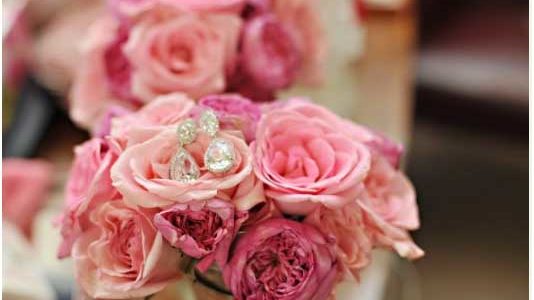 A Comparison Review of the Best 5 Online Flower Stores
Perhaps you have a pressing need to have flowers sent to a loved one and you do not have all the time in the world to pay your local florist a visit. Perhaps you live quite a distance from your loved ones. Whatever the situation may be, be it mother's day, birthday, funeral or whatever the occasion may be, without a doubt, online flower delivery services serve as a useful platform for delivering yours from the stress and challenge that comes with purchasing flowers.
However, the challenge with these numerous platforms is the fact that there are dozens of them on the internet, therefore, making it a herculean task identifying the one suitable for your needs. The big question is if there are any reliable online flower delivery platforms on the internet which have a commitment to eco-friendly practices. This review of some of the best online flower delivery services should be able to help shed more light as regards the one that should give you the best experience.
1. Organic Bouquet (www.ecoflowers.com)

This is a mission focused company that is devoted to social, economic and environmental sustainability; this is certainly one of the best friends of the earth without a doubt. Despite the fact that their organic flower collections are more limited when compared to other related platforms, Organic Bouquet is the type of company which you should feel great about giving your support to. Organic Bouquet's flowers are those grown without making use of pesticides in California, Columbia and Ecuador.
The company is also reputed for placing a high premium on high labor standards as well as fair trade. They are also known for good relationship and partnerships with over 50 charitable groups which include those that have support for social, environmental. Health and animal causes. Their packaging is also reputed to be ecologically friendly! You may, therefore, choose to pay a visit to their websites so as to be able to ascertain what their order cost may be
Pros and cons
There are a couple of pros of making use of the Organic Bouquet platform some of which includes:
Competitive product and shipping prices

Impressive charitable works

Unique and impressive eco-friendly practices around

Positive reviews from satisfied customers
Cons
Here are a few cons associated with making use of this platform:
No, all day, all week long customer care service

There is no cancellation policy on the website

There is also no UPS delivery on Mondays or Sundays

There is no way to customize the floral arrangements

There is also no personalized gift or wedding option
Price regime
$49.95 is the price for a dozen of long-stemmed roses (red without vase)

$15 for shipping next day.
The opportunities presented by online flowers
Over 14.5 million American customers bought flowers on the internet last year alone. This is Based on information from Statista and it is projected that this number should increase each year. Regardless of if you are in search of fresh flowers on a regular basis to be delivered to your doorstep or you want it as a surprise gift for a loved one, you should be able to find just what you need on the sites reviewed in this article.
It was also a quite surprising finding to discover that there are a number of online platforms which have a commitment to environmental best practices. Placing your order online on the internet is one sure and easy way of saving yourself the stress and time associated with doing it yourself. Also, unlike you flower purchases, you have the advantage of ordering the flowers from an organization that has a commitment to being one of the friends of planet earth.
2. Avas Flowers (www.avasflowers.net)


Avas flowers have been around for about 3 decades now and have its headquarters situated in Mahwah, New Jersey. It is one company that is family owned and operated and is know for flower and gift basket delivery nationwide. There are a couple of arrangements for certain special occasions. They also offer delivery on the same day and their customer service line is available all day, all week long.
Each and every one of Avas flower products affords the customers the opportunity to have their purchases rated. This is quite helpful for intending customers. Future customers are able to take a look at the rating of each of the products with a view to determining if they would still proceed with the order. Avas flowers donate and contribute to non-profits and local organization. They are currently known to be a sponsor of a number of local non-profit organizations in the locality. There is also the hot deal category which highlights all of their discounted items or sales. At the moment, they have some discounts on the rainbow roses, some birthday bouquet, some gift baskets, the Gerber daisy bouquet, color tulips and some more. There are currently about 60 items on sale.
What's more? The website is business verified. The patrons can feel quite confident that their personal information and purchase will be secured by a company that has the trust guard approval. They are also reputed to possess a 28 bit SSL secure Certification. They are also known to have been a part and parcel of the Trust Guard for the past 7 years or so. Their store is also known to be open for about 24 hours each day with a customer care line for the whole day. They also have a very enlightening flower wiki which helps to educate the customers about almost all flowers in existence
Pros and cons
The user rating of this platform is quite positive

They have some of the best deals in the market today

They have a unique customer service which sees them attending to issues via their customer care line all day long every day
Cons
There are Added fees for shipments, this is despite the fact that they claim to have one of the comparatively lowest rates in the market, and however, their prices and every other additional cost are perhaps one of the highest in the market. Also, have high delivery prices and they usually have way too many added and hidden fees

The absence of a live chat platform in the event that customers need to discuss with customer service, customers are only able to place calls in only during working hours they do not accept returns no matter the circumstances.
The Bottom Line
Avas Flowers is a family owned and operated business that has been around for a long time. They definitely have the experience and the ratings and reviews to prove it. However, most of the reviews we found about their company were poor. Since there were too many unhappy customers, we could not recommend Avas Flowers for your flower delivery needs. We suggest checking out our top recommended companies for better options.
3. Globalrose (https://globalrose.com)

Globalrose is one organization that has its origin back in the year 1999. However, the flower farm of the firm has been churning out flowers for close to three decades already. The company holds a record of having sold over 35 million flowers already and has provided flower arrangements for over 45,000 special occasions. The website indicates that the flowers are brought to the customer's doorstep not later than 4 days old when received. This, therefore, makes their flowers about 6 days fresher than the ones received from the traditional florists.
According to them, all flowers are handpicked on the same day you make the order. After which they are graded and watered before they are kept in a temperature regulated environment until when they are transported and delivered to you.
Pros
Awesome variety: Globalrose has a wide collection of exotic flowers to make your choice of which includes over 90 varieties of roses.
Freshness guaranteed: you can be sure of the fact that the flowers are handpicked on the same day you place the order for them except you are placing the order in advance. on the other hand, flowers which are obtained via the traditional channels which are about ten days old by the time it reaches the customer's hands.
Quality guaranteed: all the flowers sold are inspected individually after which they are graded. Only the top graded flowers are retailed under the name of the company.
Price discounts: there is no middleman in the supply chain which implies that the company is in a position to make available great prices better than most places.
FedEx delivery: this is perhaps one of the best and trusted companies for delivery. Having it at the back of your mind that FedEx will be delivering your package gives you increased confidence.
Cons
Lifespan issues: their flowers are said to have a low or short lifespan based on information gotten from users of the platform.
Unplanned FedEx costs: some customers have been known to get as much as $35 customs duty form FedEx when their order comes in, although Globalrose has said this was in error.
Refusal to accept cancellations: even though the company has the right to reject cancellation, however, it is something each potential customer ought to have at the back of their mind when placing orders.
Prices
All the prices are in US dollars, customers are able to make payments using any of the major credit cards or even using PayPal. All the orders qualify for the free FedEx delivery scheme meaning what you see is what you pay.
4. Just Flowers (www.justflowers.com)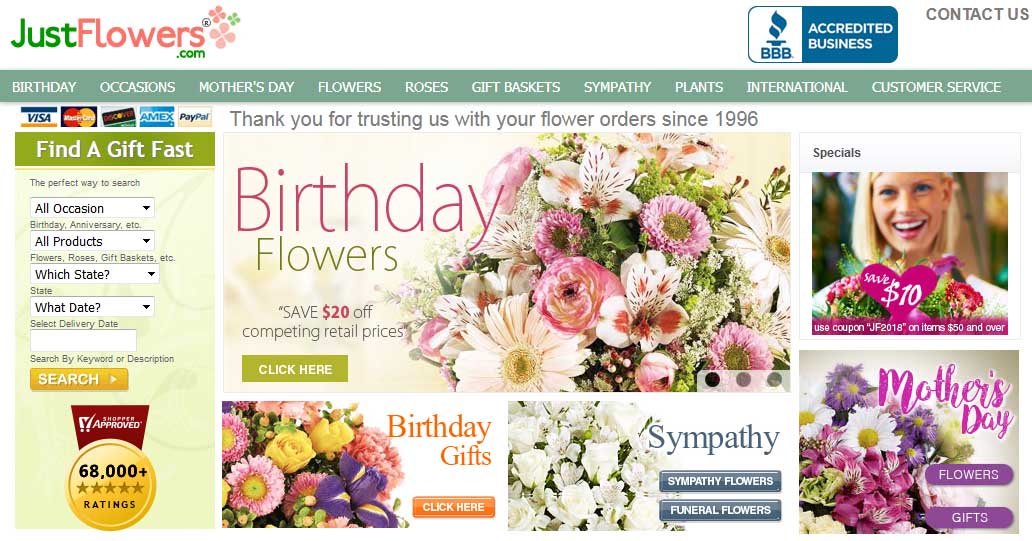 This is one company that makes use of the local florist for each order, this is better for certain communities and is a proven way of getting longer lasting and fresher products. Also, the website is quite easy to make use of, it is best for people who may want to shop locally but prefer carrying things out online. Also, there is a $7.50 off every order.
Pros:
They always make use of the local florists to get their orders

There is a guarantee of beautiful and fresh flowers

You can shop by price, flower or style

The best seller section usually shows less expensive choices

There is the same day and next day delivery for almost all items all of the time.

There is live customer care helpline available during the working hours of the day

The rates for delivery starts at about $10 instead of $20

There is a wide range of payment options
Cons:
There is no cap on the delivery cost hence you won't know exactly how much it is you will be paying at the end of the day.
There is an added charge for ordering on the phone hence this may not suit people who are not really internet savvy.
5. Flowers Fast (www.ftd.com)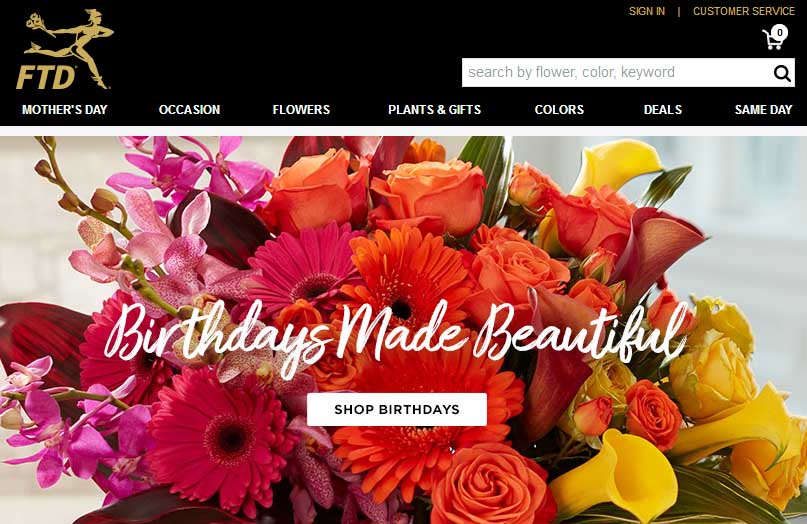 This company belongs to the FTD top 100; they are known to give members a wide range of awesome bouquets to select from at very reasonable prices. As a part of the FTD, flower fast allows its users the opportunity to explore and exploit the experience and knowledge of over 20,000 florists in America alone thus helping them find the right bouquet each of the time. Also, with a number of the bouquet being made available for delivery within a few hours after buying them, there is absolutely no reason for you to miss an anniversary or birthday again.
Getting the right bouquet at flower fast is quite an easy task. Customers are usually able to shop based on the occasion or style, helping them to locate the right bouquet for whatever occasion. If you also feel like designing your arrangement, Flower Fast affords the customers the opportunity to indicate the particular flower or flower range. Also, the search result in any category can be filtered based on the price or content thus making it quite easy to make the choice that suits you
Pros
There is a hundred percent satisfaction money guarantee which helps to ensure that all the flowers are delivered fresh and in good condition all the time.

All bouquet is delivered at a flat rate of about$11 for each bouquet which makes it easy to see the real cost of each product unlike some sites

Customers are able to indicate the particular flower range they prefer

The flowers are always fresh
Cons
The prices offered are not really the cheapest in the market

They do not have as many promotions and free delivery like some other sites
Features Comparison Table of the 5 Best Online Flower Shops 2018

| | | | | | |
| --- | --- | --- | --- | --- | --- |
|  Options | Just Flowers | Avas Flowers | Flowers Fast | Globalrose | Organic Bouquet |
| Number of flower variety | Over two dozen different flower varieties | Seasonal flowers for winter, fall and spring with over 30 varieties | Different seasonal flowers for spring, fall and winter available in about 30 different varieties | Perhaps the biggest collection of flowers world over including about 90 varieties of roses to select from | Dozens of options to choose from |
| Delivery methods | Shipment services available | Same day delivery with shipment option | Delivery at your doorstep anywhere within America | Shipment option available via FedEx and hand delivery to your doorstep | Delivery between Mondays to Fridays by shipment or hand delivery. DHL handles the deliveries |
| Handmade baskets | Available on request |  Available on request |  Available | Available | Available |
| Occasion bouquets | Available | Birthday, funeral and wedding flowers available | Available | Available | There are occasion bouquets for birthdays, the birth of a new baby and housewarming party |
| Support | 24/7 customer support line | 24/7 support centre | Customer care services available | Customer care support available | 24/support available by phone and email |
| International shop | Available | 300 corporate drive, Mahwah NJ | Not available | none, but shipments can be done to Canada on certain days of the week | Shipping only done within the USA |
| Average price and discounts in the online shop | Up to $20 discount when compared with competing outlets. | Service delivery fee is $10 and a $15.95 service fee for hand-delivered orders. | Between $100-$250 depending on your choice of flower. | Discounts available. | Between $59.95-$69.95 depending on your choice |
Conclusion
There are a couple of factors one ought to consider when making the choice of the online flower shop to patronize for any reason whatsoever such as:
Delivery options

Eco-friendly practices

Variety of products and arrangements

Customer service

Personalized options and price.
It, therefore, suffices to say that your choice of company should be predicated upon such a company meeting majority if not all of the above-listed criteria satisfactorily.