Top 5 Internet Security Suites 2017 That Provide Ultimate Security
The ever-increasing number cyber criminals and fraudulent activities have created an incredible growth in the demand for internet security solutions. This made thy cyber security one of the most competitive segment for software vendors around the world. Now the market is flooded with hundreds of software offering comprehensive protection against all sorts of cyber threats, but not all these software are equal. Each one has its own merits and demerits, and picking the right one for you or your firm is going to be painstaking. Here, we present 5 most effective internet security solutions comparison to help you make the decision easily and precisely.
1. BitDefender Internet Security 2017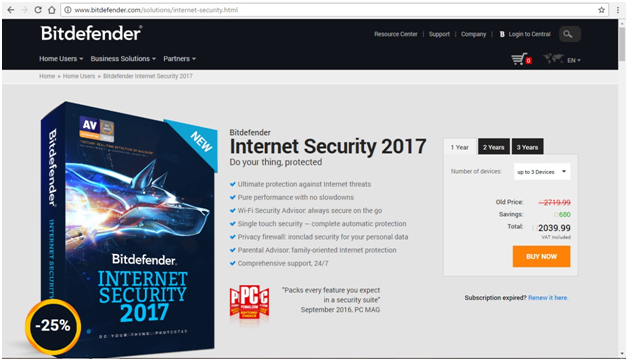 BitDefender is one of the most popular brands in the internet security and it is trusted by more than 500 million customers worldwide. The new edition comes with a revamped antivirus capabilities and it is flagged as the ultimate cyber security solution available today. The suit offers antivirus, anti-spam, system vulnerability, ransomware protection, firewall and everything you need to safeguard yourself from the cyber threats. The unique anti-virus engine of BitDefender has always scored high ratings in independent AV tests and offers best detection of malwares.  It comes with machine learning and autopilot technology that can take better decisions to protect your digital life even without your interaction. BitDefender Internet Security 2017 is multi-platform compatible and you can manage your Mac, Windows and Android devices from a central web portal. It is easy to use and comparatively light and consumes less system resources. Check the latest BitDefender 2018 Coupon Codes and Deals here
Pros
Reliable protection against internet threats
Wi-Fi security advisor
Centralized device management
Autopilot and machine learning technology
Anti-ransomware protection
Family oriented protection with Parental advisor
Tough and Impenetrable firewall
Anti-theft protection tools
Complete protection across Windows, Mac and Android
Cons:
Sluggish scanning speed
Uneven performance of parental control tools
2. Avast Internet Security 2017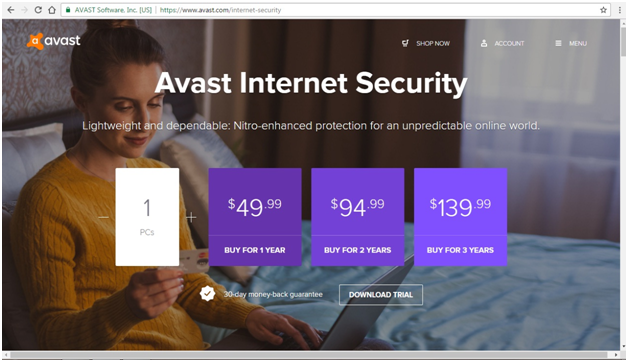 Avast Internet Security 2017 is a highly effective and efficient internet security suite that offer true protection that goes beyond your PC. It is designed to provide comprehensive security and comes with a complete set of powerful tools to keep your computer and home network away from cyber frauds. With Avast running in your computer, online banking fears are now history. The SafeZone browser is designed to provide additional protection when you bank or shop, and you can make payment with confidence. The intelligent features include powerful antivirus, anti-spam, firewall, home network security, smart scan, safe zone browser, browser cleanup, secure DNS, data shredder etc. The tools are easy to use and the Smart Scan feature lets you check your system and network for all kinds of issues with just one mouse click. Check Avast Internet Security 2018 Coupon Codes
Pros:
Excellent malware detection
Tough Firewall
Social network protection
Fast and easy virus scan with Smart Scan
Secure DNS for secure online payment
Data shredder for added security
Sandbox for safe downloads
Less impact on system performance
Cons:
Limited password management features
No parental control features
Spam filter performance not upto the mark
3. AVG Internet Security 2017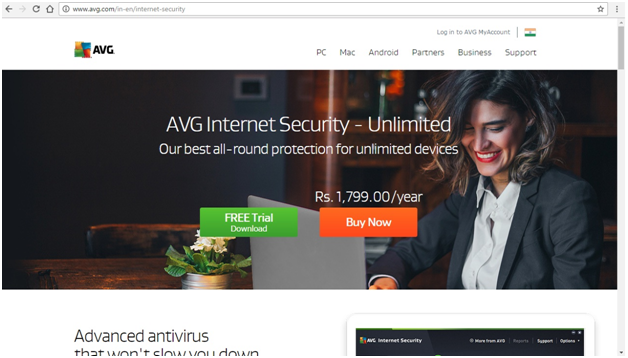 AVG Internet Security 2017 is one of the most sophisticated and highly ranked internet security suits available today. It offers you everything to keep your machine free of viruses, Trojans, spyware, rootkits, ransomware and many other nasty malware. The new version is armed with the most advanced features such as real-time analysis and artificial intelligence so that it can spot out and stop the newest malware from harming you. It continuously analyzes the activities in your system and identifies the software that has a suspicious behavior. This will help to defend your system from newest threats including keyloggers that records and transmit your banking password and account details in secret. It also boasts superior tools for personal data management, privacy protection and prevents undesirable access to your important files. Many advanced features such as Wi-Fi guard, Link scanner, PUA scanner, Email scanner etc are also available in this suite to make it a complete guardian for your computers.
Pros:
Advanced anti-virus protection
Enhanced firewall
Remote protection
Powerful Anti-ransomware tool
Real-time cloud based outbreak detection
Improved Wi-Fi guard
File shredder for improved privacy
No system slowdown
Cons:
No parental control
Poor phishing detection
Mediocre Spam filter
4. Trend Micro Internet Security 2017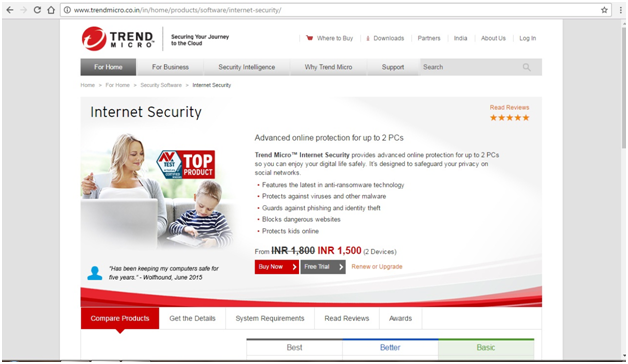 With more than 30 years of experience in the cyber security industry, Trend Micro offers an ultimate Internet security suit for those who depends internet to buy, bank and do business. It comes with a bundle of powerful tools that can effectively defend the most devastating threats in the ever-changing cyber world. It can protect you from the hackers and cyber criminals, and prevents your valuable data and privacy being exposed to the wrong people. Trend Micro Internet Security 2017 safeguards you from viruses, spam, ransomware and many other malware that sprout up every day. It gives early warnings about potentially hazardous links in instant messages, emails and attachments. It scans your browser and social media for security breaches and takes care of your privacy on social media sites so that you can enjoy your digital life securely. The Trend Micro Folder shield prevents any changes made to folders in your computer by unauthorized programs and thereby eliminating any chance for a ransomware attack. It comes with parental control features and protects your kids from internet-based frauds in real-time. Trend Micro Coupon Codes upto 50% Off.
Pros:
High detection scores in AV tests
Efficient spam filter
Improved social media security
PC health optimizer for easy system tune-up
Secure deletion of infected items
Good ransomware protection
Protects Android and iOS devices
Clear and simple control screen
Easy to understand and upto date security status reports
Cons:
No firewall
Few parental control features
Measurable impact on system performance
5. G Data Internet Security 2017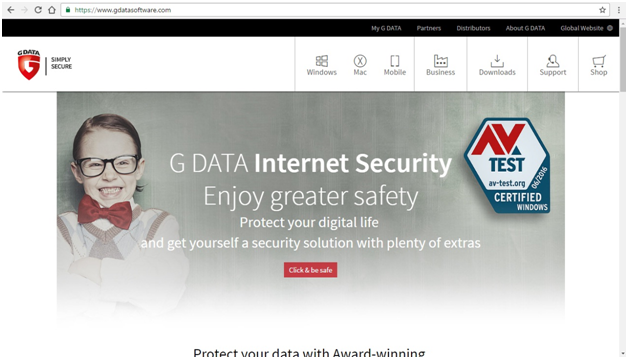 G Data Internet Security 2017 is the newest release from G-Data, one of the most innovative IT security companies in the world. They developed the first antivirus software 30 years ago and still pioneers in the field with exclusive software to combat Malwares, Trojans, Rootkits, Worms and many known and unknown viruses. In addition to common antivirus features, this software suit offers behavior monitoring, vulnerability detection, secure banking with BankGuard technology, and secure firewall etc. to ensure comprehensive protection. It provides a high level of security by combining the antivirus, antispyware and web protection tools and safeguard your computer from both online and offline dangers. It scans even SSL encrypted mails for dangerous attachments can effectively defend the malware spread through emails and instant messaging. It also offers better parental control utilities so that you can prevent your children from accessing inappropriate websites.
Pros:
Impressive virus detection
Simple installation and easy to use
Fastens boot up process
Protect children from inappropriate web site
Permanently delete files with file shredder
Full featured firewall
Better email protection
Cons:
Vulnerability in firewall
Dismal spam filtering
Poor Phishing detection
The Best Internet Security Suites 2017 Comparison Chart
| | | | | | |
| --- | --- | --- | --- | --- | --- |
| Feature | BitDefender Internet Security 2017 | Avast Internet Security 2017 | AVG Internet Security 2017 | Trend Micro Internet Security 2017 | G Data Internet Security 2017 |
| Anti-malware | Yes | Yes | Yes | Yes | Yes |
| Anti-ransomware | Yes | Yes | Yes | Yes | Yes |
| Firewall protection | Yes | Yes | Yes | No | Yes |
| Parental control | Yes | Yes | No | Yes | Yes |
| Email protection | Yes | Yes | Yes | Yes | Yes |
| Instant messaging protection | Yes | Yes | Yes | Yes | Yes |
| Anti-spam protection | Yes | Yes | Yes | Yes | Yes |
| Social Network protection | Yes | Yes | Yes | Yes | No |
| Multi-platform protection | No | No | Yes | No | Yes |
| File shredder | Yes | Yes | Yes | Yes | Yes |
Bottom Line
Today, apart from entertainment and data sharing, internet has emerged as the most widely used platform to buy, bank and business. It has also become one of the most favorite places of criminals and cheats. Without proper defense against these high-tech thieves, you can easily become a victim. In this context, you need the best protection to be safe online. It is the ultimate responsibility of an Internet security suite to provide you the proactive protection against all threats in the cyber space. The software described here are capable of providing ample security to you but it is always advised to have a closer look at their features and performance before you make decision.