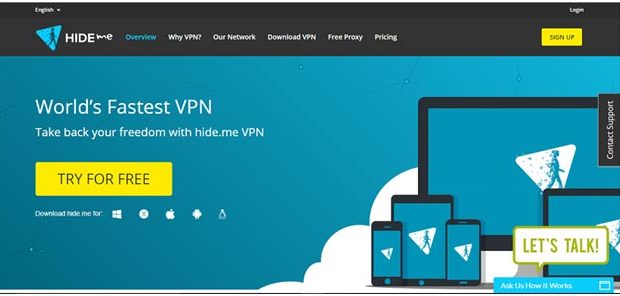 Hide.Me VPN Service Review with Pros and Cons
Another VPN provider that can be of help to remain anonymous online is the Hide.Me VPN service. This VPN provider is a Malaysian-based service that is governed by eVenture Ltd. It is necessary to know that this VPN provider offers free VPN and 2 levels of pricing plan to all of its customers.
However, for you to know if you can remain anonymous and access contents that are not available in your geographical area in the free version, or if you need the Plus or Premium versions, you need to read the whole of this article. This is due to the fact you will be noted on the costs, how to install, use, and the performance.
According to reviews and ratings on TrustPilot, Hide.Me receives 7.3 out of 10 TrustScore.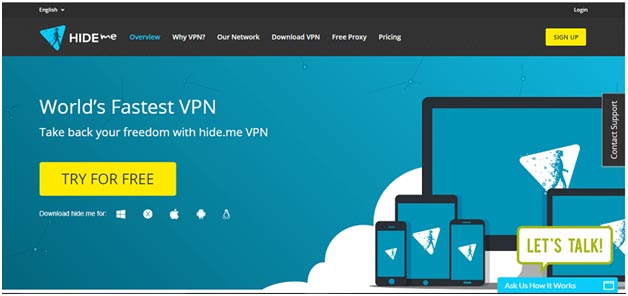 Security
One of the biggest problems when deciding which VPN plan to go for is if the security facilities are strong enough. Hide.Me is a VPN Service that keeps no online activity at all, this feature is also included on the free version also. This VPN provider offers 256-bit key Advanced Encryption Standard (AES) for all of its customers. The 256-bit key AES is a good standard that a VPN provider should have. The app has more than one VPN protocol which is SoftEther. This is a protocol system that has created 4 years ago.
Speed Test & Performance
Concerning the speed and performance, Hide.Me is very fast (30 Mbps) and it very reliable to use in different places. Nevertheless, this VPN provider has servers in 27 different countries across the globe. Please note that when you search for this VPN provider, do not search for 'HideME' by Tigervpns Ltd. That is a different VPN provider that does not offer the same features that Hide.ME offer.
Pricing Plans
As stated earlier, Hide.Me offers a free version and this version has limited features unlike the paid the ones. It is necessary to note that if you decide to make use of any VPN provider and stream any content in any country at your comfort zone, then you need to connect to the server of that same country. The free version of Hide.Me only allows quick access to servers in Canada, Netherlands, and Singapore. If the content that you want to view is not in any of these countries then the free version won't be of any use to you.
Another disadvantage that the free version of Hide.Me has is that it doesn't permit you to have access to OpenVPN or SoftEther- which are great protocols that are trending today. For the free trial plan, you will get 2GB per month.
In addition to these, making use of the free version will not give you all the features that you want. This VPN service offers a 30-day money guarantee after you have opted for the paid plan, but it will only do this when you have used less than 50 MB of your data.
The main differences between the Plus Plan and the Premium Plan are that you will be permitted to access up to 10 different connections at the same time with the Premium Plan; the Plus plan has a data output limit of 75 GB per month. Premium data subscribers have the access to unlimited data. In case you have made the decision to buy the service I will recommend you to check Hide.Me VPN Service promo codes to save upto 80% of the regular price.
The list of available servers in different locations also includes Washington DC, Australia, Netherlands, and the U.K.
Pros of Hide.Me VPN Service
Good Customer Support System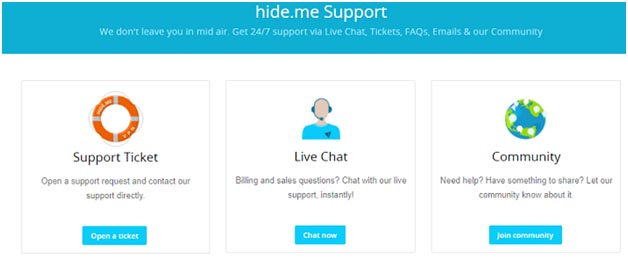 One of the best features of Hide.Me is its customer support system; this is due to the fact that it offers a live chat system which is available 24/7. The live chat system can be able to answer any query or whatsoever that has to do with the service. To have access to the customer support system of Hide.Me, then, you need to click on the blue tab at the bottom right of the website. You need to know that you don't have to input any information regarding your identity before you get a solution to your question(s).
Another good advantage of Hide.Me is that, it offers a free version app to all of its customers, although, you may not get all the full features, but you can still use the free version for months. This is why this VPN service is a good bet.
Due to the fact that Hide.Me is a Malaysian-based company, which is a good location for protection against actions and copyright lawyers, you can have unbeatable privacy.
It is also necessary to know that your account information and details are kept by some other payment collection agencies. With this in mind, HideMe does not keep any vital personal details to itself. Tracker codes for Google Analytics are also part of the features that this VPN service offers on its website, regarding privacy.
Due to the fact that Hide.Me has OpenVPN feature on its app, this makes it a great choice. However, there are other protocols that this VPN has and there ate, L2TP and IKEv2. Although, the IKEv2 is only available on Linux.  On the other hand, L2TP can be seen on platforms like Windows, Mac, Linux, iOS, and OS X devices. All these executions on these devices come with 128-BIT key AES – although, not as secure as the OpenVPN, which has 258-BIT key AES.
Cons of Hide.Me VPN Service
Inability To Solve Technical issues By The Customer Care System
Even though Hide.Me has good customer care system that can give you an immediate response when you need them to, the live chat does not have the ability to solve some technicalities that you might face when contacting them.
One of the importance of VPN services is their ability to access any type of content. However, Hide.Me doesn't have the ability to access Netflix and this is one of the biggest disadvantages that it has, due to the fact that Netflix is one of the channels that with good contents.
Support for Android and IOS
However it is necessary to know that Hide.Me has its application on Android and IOS devices. The VPN service can be easily set up on these devices and it has beautiful interface during use.
How to Use Guide
It is very easy to use Hide.Me VPN services. If you get the free trial, you need to set up your account before you sign up for the subscription service. If you haven't done this then you have to go to the Pricing page and purchase either the Premium Plan or Plus Plan.
Furthermore, if you want to purchase the subscription plan, you can do so by using PayPal or bitcoin. When you installed the file, it will give you an overview of its instructions. After this all you need to do is to log in to the app with your username and password to enjoy.
Conclusion
Hide.Me is one of the best VPN providers out there. Although it can't give you the access to the Netflix of another country.  The security measures of the VPN provider are top-notch and this is due to the fact the country is based in Malaysia, which is one of the countries with no log policies. It also has a kill switch for you to have an incredible experience.